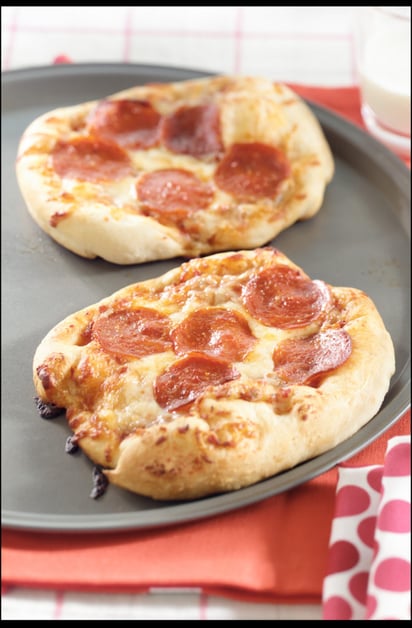 Quick Kids' Pizza
Pre-made dough and simple homemade sauce from pantry ingredients ensure a pizza that's both quick and good.
Refrigerated pizza dough and a microwave sauce make home-made pizza quick work.
Ingredients
(10)
1/2 cup onion chopped

1 garlic clove, minced

1 tablespoon olive oil

1 (8-ounce) can tomato sauce

1 teaspoon dried oregano

1/4 teaspoon salt

1/4 teaspoon coarsely ground black pepper

1 (13-ounce) can refrigerated pizza dough

1/2 cup shredded mozzarella

2 ounce pepperoni
Ingredient Facts and Health Benefits
Discover fascinating facts and health benefits about some of the ingredients in the recipe, including other delicious recipes!
Directions
Preheat oven to 400F.
Combine onion, garlic and oil in a 4-cup glass measuring cup. Microwave at HIGH 30 to 40 seconds. Add tomato sauce and oregano; microwave 2 1/2 minutes. Stir in salt and pepper. Remember to use hot mitts when removing cup from microwave.
Divide dough into 4 pieces. Flatten each to a 6-inch circle and place on a large baking sheet. Spread sauce on dough; sprinkle with mozzarella and top with pepperoni. Bake 10 minutes or until bubbling. Serves 4.