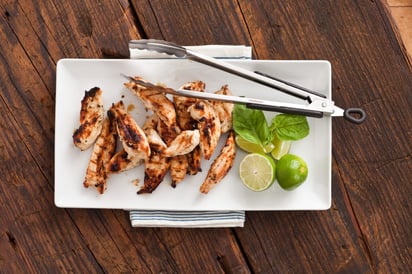 Nora's Grilled Chicken
Slice up some boneless chicken breasts, marinate them in the fridge, and you'll have dinner and snacks prepped and ready to go for several days.
The chicken develops more flavor the longer it sits (up to 3 days). Grill it up with tomatoes all year long.
Ingredients
(7)
4 large garlic cloves, chopped

Juice of 2 limes

1/4 cup extra-virgin olive oil

Handful of minced fresh basil

1/2 teaspoon coarse salt

Freshly ground pepper

4 large boneless, skinless chicken breasts, each cut into 3 strips
Ingredient Facts and Health Benefits
Discover fascinating facts and health benefits about some of the ingredients in the recipe, including other delicious recipes!
Directions
Combine all ingredients except chicken in a zip-top plastic bag. Add chicken, seal bag, and refrigerate 4 hours or up to 3 days.
Heat grill to medium-high. Place chicken strips on grill rack and cook until thoroughly cooked, 6 to 10 minutes.