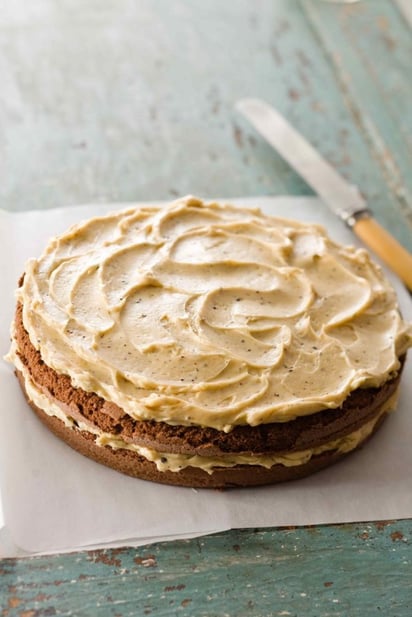 Le Marquis (Chocolate Spongecake)
Build your cooking skills and culinary confidence with this classic chocolate cake from Julia Child.
Here is a classic recipe from Mastering the Art of French Cooking. It's not difficult but uses classic techniques many have never learned: beating egg yolks into thick "ribbons," whisking egg whites into stiff peaks, and sifting and folding. Unlike most of today's recipes, Julia Child's were written with the equipment listed with the ingredients. That way you wouldn't get halfway through the recipe only to realize you didn't have an electric beater or 1 1/2-inch deep cake pan.
Ingredients
(16)
A round cake pan, 8 inches in diameter and 1½ inches deep

3 1/2 ounce or squares of semisweet baking chocolate

2 tablespoon brewed coffee

A small saucepan set over almost simmering water

A wooden spoon

3 1/2 tablespoon butter, softened

A wire whip or electric beater

3 egg yolks

3 quart mixing bowl

1/2 cup granulated sugar

3 egg whites

Pinch of salt

1 tablespoon granulated sugar

A rubber spatula

2/3 cup sifted cake flour, returned to sifter

A cake rack
Ingredient Facts and Health Benefits
Discover fascinating facts and health benefits about some of the ingredients in the recipe, including other delicious recipes!
Directions
Preheat oven to 350F. Butter and flour the cake pan. Measure out the ingredients. Stir chocolate and coffee in the saucepan over almost simmering water until chocolate is melted and smooth. Off heat, beat in butter by spoonfuls to make a creamy mass. Let cool to tepid while proceeding with recipe.
Beat egg yolks in the mixing bowl, gradually adding sugar, until thick and pale yellow and forms a ribbon.
Beat egg whites and salt together in a separate bowl until soft peaks are formed; sprinkle on sugar and beat until stiff peaks are formed.
Fold tepid chocolate and butter into egg yolk mixture, then fold in one-fourth of the egg whites. When partially blended, sift on one-fourth of the flour and continue folding, alternating rapidly with more egg whites and more flour until all egg whites and flour are incorporated.
Immediately turn into prepared cake pan and run the batter up to the rim all around. Bake in the middle level of preheated oven for about 30 minutes. Cake will puff about ¼-inch above rim of pan and top will crack. It is done when a needle or straw, plunged into the center of the cake, comes out clean.
Remove cake from oven and cool in pan 5 minutes. Cake will sink slightly and top will wrinkle. Run a knife around inside of tin and reverse cake on rack. Allow to cool for about 2 hours; cut layer in half horizontally. It must be thoroughly cold if it is to be iced.
For the frosting, see Creme au Beurre, Menagere.