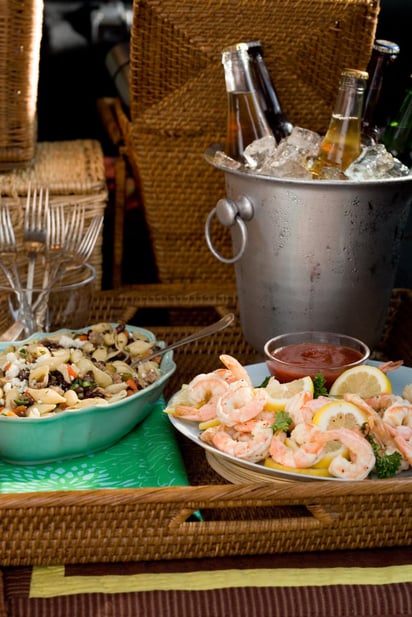 Beer-Boiled Shrimp Cocktail
Beer for the shrimp and chili-flavored cocktail sauce amp up this version of the classic appetizer.
No party is complete without beer. Here, it lends a kiss of hoppy flavor to shrimp cocktail. For individual servings, divide the sauce among martini glasses and hook the shrimp over the rims. Serve with lemon wedges for squeezing.
Ingredients
(16)
Shrimp:

2 (12-ounce) bottles beer, preferably lager

3/4 cup distilled white vinegar

1/4 cup fresh lemon juice

1/4 cup crab-boil seasoning (such as Old Bay)

1 teaspoon hot-pepper sauce

10 sprigs fresh parsley

2 pound large raw shrimp, peeled and deveined (preferably tail-on; thawed if frozen)

Cocktail Sauce:

3/4 cup bottled chili sauce

3 tablespoon tomato paste

3 tablespoon lime juice

3 tablespoon dry white wine, sherry or vermouth

1 1/2 tablespoon prepared horseradish

3/4 teaspoon Worcestershire sauce

1/2 teaspoon hot-pepper sauce
Ingredient Facts and Health Benefits
Discover fascinating facts and health benefits about some of the ingredients in the recipe, including other delicious recipes!
Directions
Mix all ingredients for shrimp (except shrimp) in large, deep skillet. Bring to simmer over high heat. Add shrimp, return to simmer, and cook 2 to 3 minutes or until shrimp curl and turn pink. Remove from heat and let stand 30 minutes. Cover and refrigerate 2 to 6 hours. Drain shrimp, discarding other solids. Chill until serving.
Mix all ingredients for cocktail sauce in a small serving bowl. Chill until serving.
Serve shrimp cold with sauce.