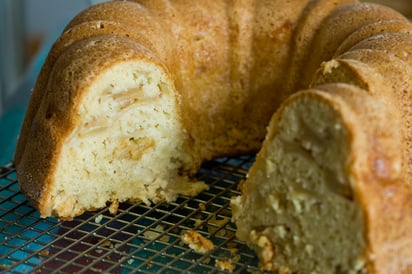 Philadelphia-Style Apple Cake
An old-fashioned apple cake featuring cinnamon and orange.
Be sure to grease the Bundt pan really well, and avoid cooking spray as it could cause the cake to stick.
Ingredients
(11)
6 cup peeled and thinly sliced Granny Smith apples (about 3 large)

1 1/2 cup plus 5 tablespoons, granulated sugar, divided

4 teaspoon cinnamon

3 cup all-purpose flour

1 tablespoon baking powder

1/2 teaspoon salt

4 eggs

1/2 cup light brown sugar

1 cup vegetable oil

1/2 cup orange juice

2 1/2 teaspoon vanilla extract
Ingredient Facts and Health Benefits
Discover fascinating facts and health benefits about some of the ingredients in the recipe, including other delicious recipes!
Directions
Preheat oven to 350F. Grease, sugar and flour a 10-inch Bundt or tube pan.
Combine apple slices with 5 tablespoons granulated sugar and cinnamon; set aside.
Combine flour, baking powder and salt in a bowl and set aside.
Beat eggs with remaining granulated sugar and brown sugar. Add vegetable oil, orange juice and vanilla; beat well. Gradually blend in flour mixture and mix until well blended (about one minute).
Pour one third of the batter into the pan. Top with half the apple slices, draining off any liquid. Pour in half the remaining batter and top with remaining apple slices. Top with remaining batter, making sure the apples are covered.
Bake 55 to 60 minutes, until the top turns golden brown and a knife inserted near the center comes out clean. Let cool 10 minutes in pan. Turn out onto a wire rack and let cool completely