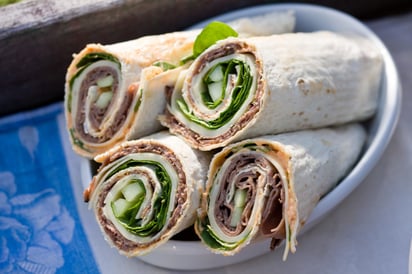 Roast Beef Wraps
Roll up a quick (and picnic-portable) lunch from deli meat and cheese.
Use lavash, the thin flat bread also known as Armenian cracker bread, or packaged wraps to prepare these roast beef and vegetable sandwiches. Look for them in packages near the deli counter.
Ingredients
(8)
1/2 cup mayonnaise

1 tablespoon sun-dried tomato paste

2 teaspoon horseradish

4 lavash breads or wraps

Baby spinach leaves

1/2 pound thinly sliced deli roast beef

1/3 pound thinly sliced Swiss cheese

Half a seedless cucumber, peeled and cut lengthwise in 8 slices
Ingredient Facts and Health Benefits
Discover fascinating facts and health benefits about some of the ingredients in the recipe, including other delicious recipes!
Directions
In a small bowl, stir together mayonnaise, tomato paste and horseradish.
With long side facing, spread one lavash with 2 tablespoons of the mayonnaise mixture almost to the edges. Top with 1/4 of the spinach, roast beef and cheese. Place 2 slices of cucumber horizontally at the middle. Fold edges of lavash over and roll up jellyroll style. Wrap in plastic wrap. Repeat with remaining ingredients. Cut each sandwich into halves.