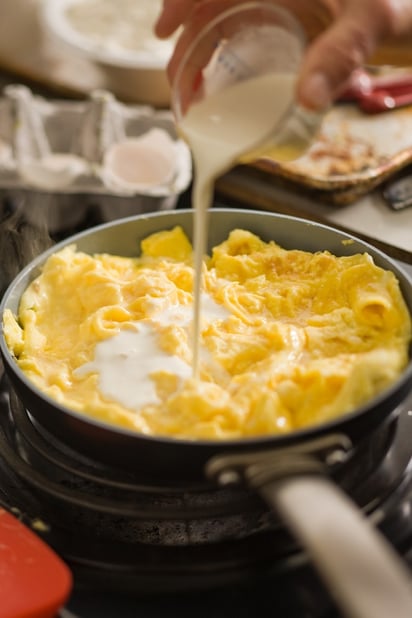 Scrambled Eggs and Sautéed Cherry Tomatoes
Creamy eggs get a generous helping of summer flavor. A dash of cream makes them super velvety.
Don't rush these eggs—cooking them slowly keeps them creamy.
Ingredients
(11)
2 teaspoon olive oil

1 garlic clove, chopped

2 cup cherry tomatoes, cut into halves

2 sprig thyme

1/2 teaspoon coarse salt, divided

Dash of white pepper

2 tablespoon butter

8 eggs

3 tablespoon heavy cream

4 thick slices rustic sourdough bread, lightly toasted

Chives, finely chopped for garnish
Ingredient Facts and Health Benefits
Discover fascinating facts and health benefits about some of the ingredients in the recipe, including other delicious recipes!
Directions
Heat oil in sauté pan over medium heat. Add garlic and tomatoes and sauté 5 minutes. Add thyme and sauté 4 minutes. Season with 1/4 teaspoon salt and pepper. Remove thyme sprigs.
Place eggs in a bowl and whisk. Place a large, heavy skillet over low heat. Add butter and heat until melted. Add eggs. As eggs begin to set, draw a spatula from the edge of the pan to the center, allowing the uncooked eggs to run onto the surface of the pan. Just before eggs are done, add heavy cream and stir until eggs are creamy, soft and a little lumpy. Season with remaining 1/4 teaspoon salt and white pepper.
Place a piece of warm toast on 4 individual serving plates. Top with eggs and tomatoes. Sprinkle with chives.