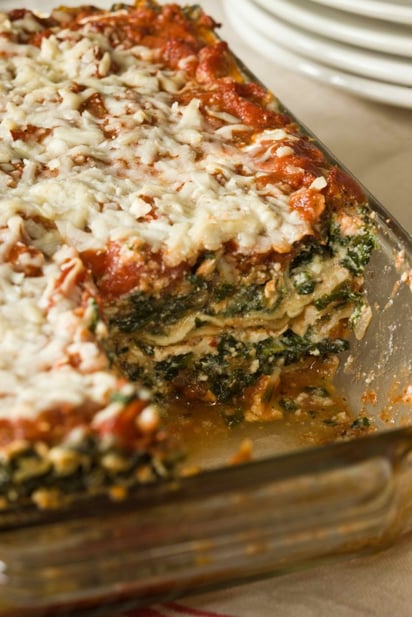 Spinach Lasagna
Layers of tomatoes, spinach, cheese and pasta form a rich lasagna.
Prepare the lasagna a day ahead and bake just before serving.
Ingredients
(20)
Tomato Sauce:

3 tablespoon olive oil

1 small yellow onion, finely chopped

2 clove garlic, crushed

1 -- (28-ounce) can diced tomatoes, undrained

1 -- (28-ounce) can crushed plum tomatoes, undrained

1 tablespoon tomato paste

1 teaspoon sugar

1 teaspoon coarse salt

1 tablespoon dried oregano

1 tablespoon dried basil

1/2 teaspoon crushed red pepper

1/2 teaspoon coarsely ground black pepper

Lasagna:

2 1/2 cup whole-milk ricotta cheese

2 -- (10-ounce) packages frozen spinach, thawed, drained and squeezed dry

1 -- egg

9 -- no-cook lasagna noodles

1 pound part-skim mozzarella cheese, thinly sliced

2/3 cup grated Parmigiano Reggiano cheese
Ingredient Facts and Health Benefits
Discover fascinating facts and health benefits about some of the ingredients in the recipe, including other delicious recipes!
Directions
To prepare sauce, heat olive oil in a large saucepan. Add onion and garlic; cook until soft and translucent, but not brown.
Add tomatoes, tomato paste, sugar, salt, oregano, basil, crushed red pepper and black pepper; stir well. Bring to a boil; simmer, uncovered, 30 minutes. Let cool slightly.
Preheat oven to 375F.
To prepare lasagna, combine ricotta cheese, spinach and egg in a large bowl; mix well.
Coat the bottom of a 13 x 9-inch baking pan with a third of the tomato sauce. Cover sauce with 3 noodles without overlapping (break noodles to fit), half the ricotta mixture and half the mozzarella slices. Add half the remaining sauce, 3 noodles, remaining ricotta mixture and remaining mozzarella. Top with remaining 3 noodles, remaining sauce and Parmigiano Reggiano cheese. To make ahead of time, cover with foil and refrigerate 6 to 8 hours or overnight.
Place pan on baking sheet. Bake, uncovered, 40 minutes, or until bubbly. Let stand about 15 minutes before cutting into squares.