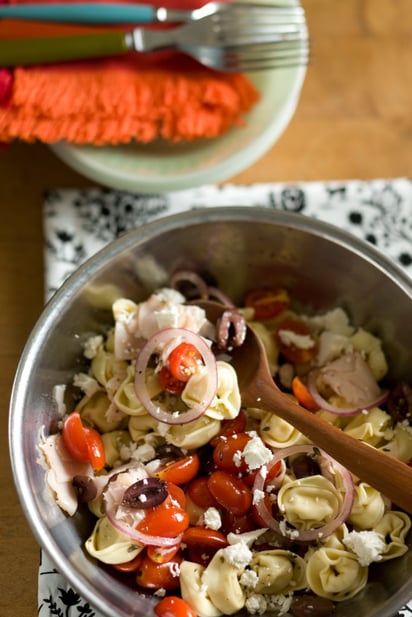 Lunchbox Tortellini
A bowl of this on hand will take care of brown-bag lunches for several days.
This healthful, delicious pasta salad takes all of 15 minutes to make and can feed your kids for days. Add, subtract and substitute ingredients as you and your little tykes like.
Ingredients
(11)
1 package (9-ounce) fresh or frozen cheese tortellini

2 tablespoon extra-virgin olive oil

2 tablespoon fresh lemon juice

1 teaspoon minced fresh thyme

1/2 teaspoon sugar

coarsely ground black pepper

1 1/4 cup halved grape tomatoes

1/3 cup chopped pitted kalamata olives

3 ounce smoked deli-shaved turkey breast, torn into bite-sized pieces

3 to 4 red onion, thin slices

2 ounce crumbled ricotta salata or feta cheese
Ingredient Facts and Health Benefits
Discover fascinating facts and health benefits about some of the ingredients in the recipe, including other delicious recipes!
Directions
Cook tortellini in a large pot of salted, boiling water according to package directions. Drain, rinse under cold water, and drain again. Transfer to a large bowl.
Whisk together oil, lemon juice, thyme, sugar and pepper in a small bowl. Pour over pasta; toss well. Add tomatoes, olives, turkey, onion, cheese and additional black pepper; toss well.