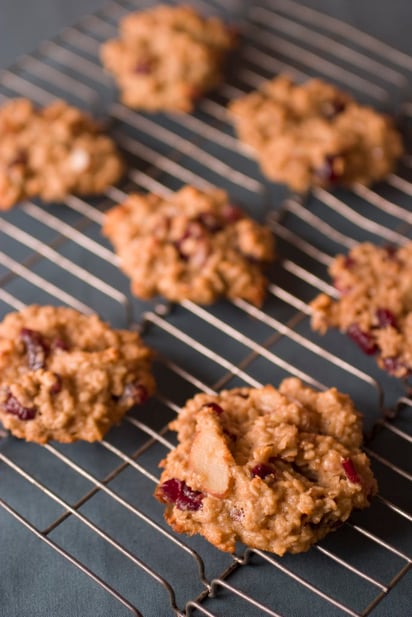 Heart-Healthy Oatmeal Cookies
Low in calories and fat, these cookies are a perfect snack.
These heart-healthy cookies taste good enough to feel like we're cheating, even when we're not.
Ingredients
(8)
1 cup plain fat-free yogurt

1/2 cup brown sugar substitute, such as Splenda brown sugar blend

2 tablespoon buttery spread, such as Smart Balance Original, melted

2 egg whites

1 1/2 cup quick-cooking oats

1/2 cup dried fruit, such as cranberries or blueberries

1/4 teaspoon ground cinnamon

1/4 cup chopped pecans, or almonds
Ingredient Facts and Health Benefits
Discover fascinating facts and health benefits about some of the ingredients in the recipe, including other delicious recipes!
Directions
Preheat oven to 350F. Line a cookie sheet with parchment paper.
Combine yogurt, brown sugar blend and buttery spread in a bowl; mix until light and fluffy. Beat egg whites in a small bowl until soft peaks form. Fold into yogurt mixture. Stir in oats, dried fruit, cinnamon and pecans just until blended.
Drop by heaping teaspoonfuls onto prepared cookie sheet. Press together and flatten with a fork for uniform baking. Bake 20 minutes. Cookies have a moist cake-like texture.