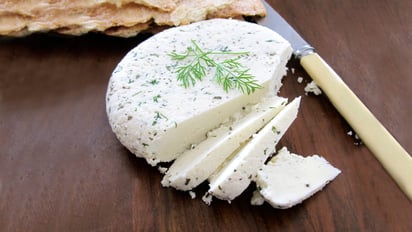 Homemade Farmer's Cheese
This homemade cheese is mild, like ricotta or fresh mozzarella.
Ingredients
(4)
1/2 gallon whole milk, not ultra-pasteurized

1/4 cup distilled white vinegar or lemon juice

1 teaspoon salt

Fresh herbs or Ripe Olive and Fig Tapenade (optional)
Ingredient Facts and Health Benefits
Discover fascinating facts and health benefits about some of the ingredients in the recipe, including other delicious recipes!
Directions
Warm milk over medium heat in a heavy-bottom saucepan, stirring occasionally, until it reaches 175F. Add vinegar, remove from heat and stir 1 minute. Let stand 15 minutes.
While curds are separating, line a colander with moistened cheesecloth and place over a bowl or in the sink.
Gently stir in fresh herbs or a dollop of Ripe Olive and Fig Tapenade or leave plain.
Pour curds into cheesecloth. Allow whey to drain 5 minutes, then gather up corners of cheesecloth and use your hands to gently squeeze out remaining whey. Press cheesecloth bundle into a flat disk and refrigerate 1 hour.
Enjoy as is or place in an airtight container and store in the refrigerator up to 5 days.