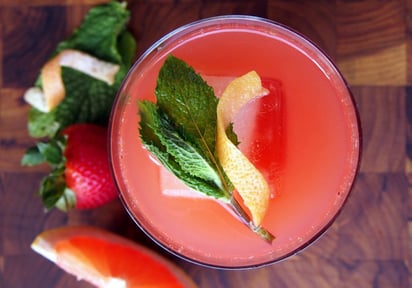 Strawberry Grapefruit Drink
This delicious early-summer drink should be made with fresh strawberries.
Ingredients
(6)
10 ounce frozen strawberries in syrup, thawed

3 cup grapefruit juice, chilled

1/4 cup sugar

Garnish:

4 mint sprigs

1 grapefruit peel
Directions
Sprinkle ¼ cup sugar over a quart of halved and hulled berries and let sit in the refrigerator overnight. Once they've released their syrup, puree and proceed.
Place strawberries and 1 cup grapefruit juice in blender. Cover and blend on high speed about 30 seconds or until smooth. Add remaining grapefruit juice. Cover and blend until mixed. If you prefer smooth juice, strain through a fine-mesh sieve.
Serve over ice, garnish with fresh mint sprig and a twist of grapefruit peel.