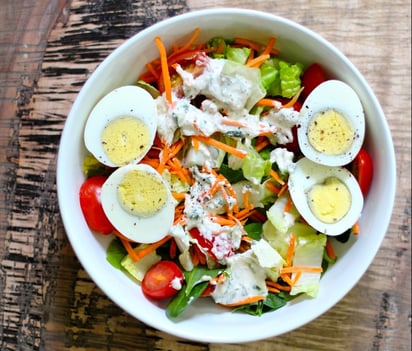 Easy and Light Cobb Salad
A healthy and simple take on traditional Cobb salad.
Ingredients
(10)
2-3 cup spinach

1 whole hard boiled egg

2 hard boiled egg whites (use more egg whites for a boost in protein)

1/4-1/2 cup shredded carrots

1/4-1/2 cup cherry tomatoes, cut in half

1/4-1/2 cup chopped broccoli

Dressing:

1 tablespoon tahini

fresh lemon juice

apple cider vinegar (for thinning to desired consistency)
Ingredient Facts and Health Benefits
Discover fascinating facts and health benefits about some of the ingredients in the recipe, including other delicious recipes!
Directions
Peel hared boiled eggs from their shells and dice or slice into rounds. Be sure to remove yolk center for egg white portion.
Arrange the salad ingredients in sections on a platter with vegetables on top of the bed of spinach. Or, if desired, mix salad ingredients together.
In a small bowl, whisk the dressing ingredients together with a fork. Pour over the salad and serve.