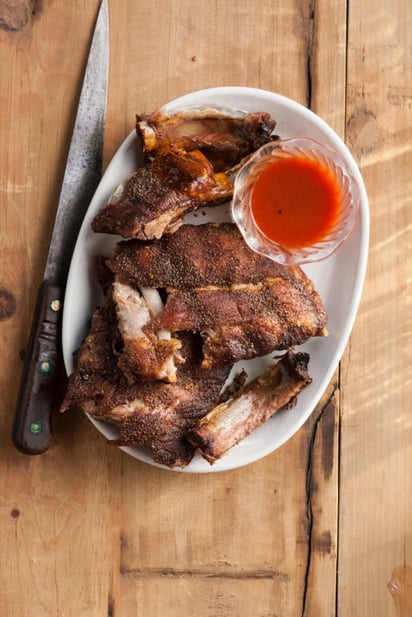 Dry-Rubbed Ribs
Dry-rubbed ribs that are slow-cooked, tangy and made to fall off the bone.
Ingredients
(10)
Rib Rub:

1 teaspoon celery seeds

1 teaspoon coarse salt

2 tablespoon sweet Hungarian paprika

1 teaspoon granulated garlic or garlic powder

Ribs:

1 large meaty rack baby back or St. Louis pork ribs (2 to 2 ½ pounds)

1/4 cup white vinegar

1 teaspoon salt

1/2 teaspoon liquid smoke (optional)
Ingredient Facts and Health Benefits
Discover fascinating facts and health benefits about some of the ingredients in the recipe, including other delicious recipes!
Directions
To prepare rub, combine celery seeds, salt, paprika and garlic powder.
To prepare ribs, preheat oven to 275F.
Place ribs on a large, rimmed baking sheet. Sprinkle rub over ribs and massage into both sides. Bake 3 to 4 hours for baby back ribs or 4 to 5 hours for St. Louis ribs. If at any point the ribs seem to be browning excessively, turn the heat down to 250F.
Combine vinegar, salt and liquid smoke, if using. About 1 hour before ribs are done, brush mixture over ribs every 15 minutes or so.
Use a sharp knife to cut the racks into individual ribs and give them one last brush with remaining vinegar mixture.