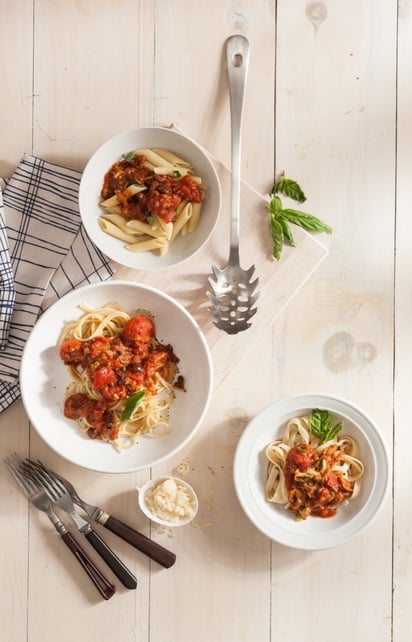 Pasta Puttanesca
Highlighted by a spicy pasta sauce, this traditional Italian dish is filled with nutrients.
For a milder sauce, omit the capers and decrease the amount of red pepper flakes.
Ingredients
(11)
1 tablespoon olive oil

3 clove garlic, chopped

1 medium zucchini, grated (about 2 1/2cups)

4 anchovy fillets from a can, mashed with a fork

1 (28-ounce) can whole tomatoes, undrained

1/2 teaspoon crushed red pepper flakes

1/2 cup kalamata olives, chopped

2 tablespoon capers, drained

2 tablespoon fresh basil, chopped

16 ounce hot cooked spaghetti

1 ounce grated Parmigiano Reggiano cheese
Ingredient Facts and Health Benefits
Discover fascinating facts and health benefits about some of the ingredients in the recipe, including other delicious recipes!
Directions
Heat oil in a large nonstick skillet over medium heat. Add garlic and sauté 1 minute. Add zucchini and sauté until soft, about 4 minutes. Stir in anchovies. Add tomatoes, red pepper flakes, olives and capers; cook 5 minutes, stirring occasionally and breaking up the tomatoes with a spoon. Remove from heat and stir in fresh basil. Serve over spaghetti with cheese.