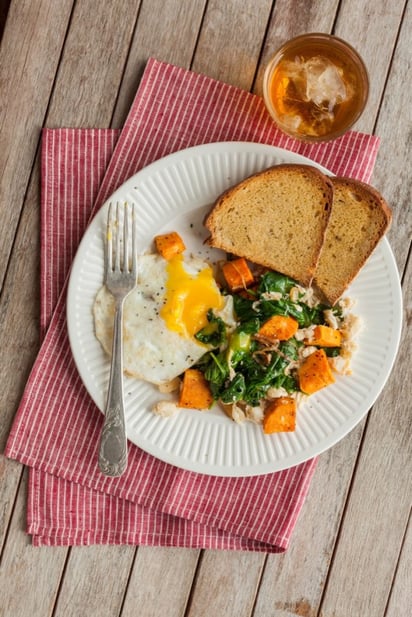 Crab and Sweet Potato Hash
Classic potato hash is modified with seafood favorites.
Use white potatoes leftover from dinner instead of sweet potatoes and shrimp or lobster in place of the crab if you prefer. — Chef Sarah Lee Myers
Ingredients
(12)
2 medium sweet potatoes, peeled and chopped

1 large shallot, thinly sliced

1/2 teaspoon sweet paprika

Freshly ground pepper

1 tablespoon olive oil

3 tablespoon butter

2 garlic cloves, thinly sliced

Finely grated rind and juice of 1 lemon

1/2 teaspoon Old Bay seasoning

12 ounce lump crab

4 ounce baby spinach

4-6 fried eggs
Ingredient Facts and Health Benefits
Discover fascinating facts and health benefits about some of the ingredients in the recipe, including other delicious recipes!
Directions
Preheat oven to 350F.
Place sweet potatoes and shallot on a large baking sheet. Sprinkle with salt, paprika and pepper. Drizzle olive oil over top and toss. Place in oven and roast 20 to 30 minutes, or until sweet potatoes are tender.
Melt butter in a large skillet over medium heat. Add garlic, lemon rind, Old Bay Seasoning and crab. Cook 1 minute. Add lemon juice and spinach. Toss until coated with butter. Add potato mixture. Serve warm, topped with fried eggs. Serves 4 to 6.