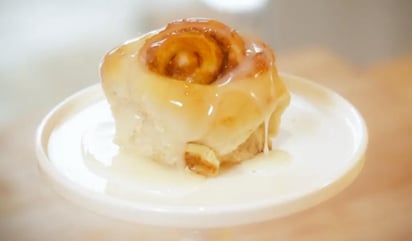 Cinnamon Rolls
Try this simple and delicious cinnamon roll recipe.
A very sharp knife is key to making clean slices through the filled and rolled dough.
Ingredients
(7)
1 package frozen dinner roll dough

2 stick melted butter

2 cup brown sugar

2 tablespoon cinnamon

2 cup raisins

1 box powdered sugar

1 cup milk
Directions
Prepare dough according to directions. Let rise 30 minutes and punch down.
On a lightly floured surface, roll dough out to square, about 1/4-inch thick. Spread one side with melted butted. Top with brown sugar, cinnamon and raisins. Roll up jelly roll-style. Cut into 1-inch slices and closely pack them on to greased baking pan. Let rise until double, about 1 hour.
Preheat oven to 375. Bake 12-15 minutes.
In large mixing bowl, whisk together powdered sugar and milk until smooth. Pour glaze over hot, baked cinnamon rolls.