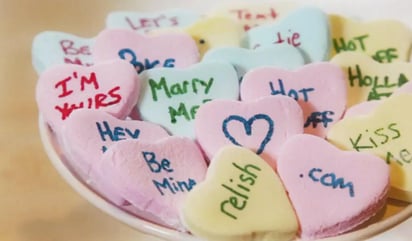 Homemade Valentine's Conversation Hearts
Get your loved ones talking with these sweet, homemade conversation hearts!
Now you can make your own version of the classic Valentine's Day treat. Just pick your favorite flavored extracts and food dye colors. You might want to wear some latex gloves to keep your hands from getting stained by the food dye. This is a really fun project to do with the kids—they'll have a blast playing with the edible markers. EQUIPMENT NOTE: You will need a stand mixer with a paddle attachment, a rolling pin and heart-shaped cookie cutters of varying sizes.
Ingredients
(7)
2 teaspoon light corn syrup

1 packet, unflavored gelatin

1/2 cup water

2 pound powdered sugar

Food dye

Flavored extracts

Food-safe edible markers with fine points
Directions
Combine corn syrup, gelatin and water in a small saucepan over medium heat. Cook until gelatin is dissolved. Pour into bowl of stand mixer.
Add powdered sugar 1 cup at a time, stopping mixer each time. Mix until batter is stiff like dough. Remove to surface floured with more powdered sugar and knead until smooth. Cut into three equal pieces. Dye and flavor each piece to your liking. Roll out until about 1/4-inch thick and cut into hearts. Place on baking sheet and let dry for 24 hours.
Use markers to write sweet nothings on dried candies.