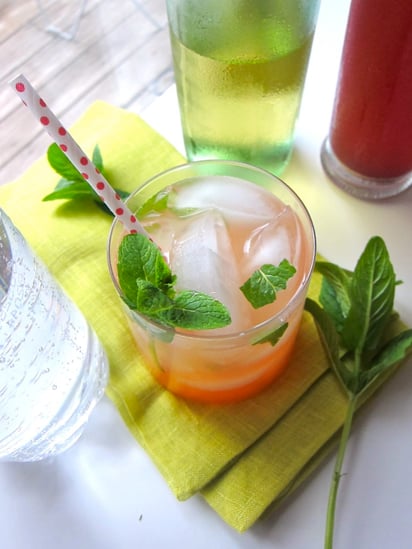 Rhubarb-Mint Wine Spritzer
Puckery sweet rhubarb syrup casts a brilliant red hue and makes a terrific base for cocktails, such as this wine spritzer.
The rhubarb syrup would be tasty poured over ice cream or pound cake, too.
Ingredients
(9)
Fresh Rhubarb Simple Syrup:

8 to 10 stalk fresh rhubarb cut into 1 inch pieces

1 cup agave nectar

1/2 cup water

Spritzer:

2 (750ml) bottles chilled white wine, such as a Pinot Grigio

1 1/2 to 2 cup Fresh Rhubarb Simple Syrup

1 liter chilled seltzer water

Fresh mint leaves
Directions
To prepare simple syrup, put rhubarb, agave nectar and water into a heavy saucepan. Bring to a boil. Turn heat to simmer and cook, stirring every so often, until mixture is somewhat reduced and slightly thickened. Remove from heat. Let cool about 30 minutes. Strain mixture through a fine sieve, pressing gently with a spoon to release all the liquid. Let cool completely and pour into a glass container. Rhubarb syrup will keep for a few weeks in the refrigerator. Makes 2 cups.
To prepare spritzer, mix wine and rhubarb syrup in a large pitcher. Add a small handful of fresh mint leaves to the pitcher. Use a wooden spoon to gently crush leaves. Stir well. Add seltzer water just before serving.  Serve over ice cubes and garnish with more mint.