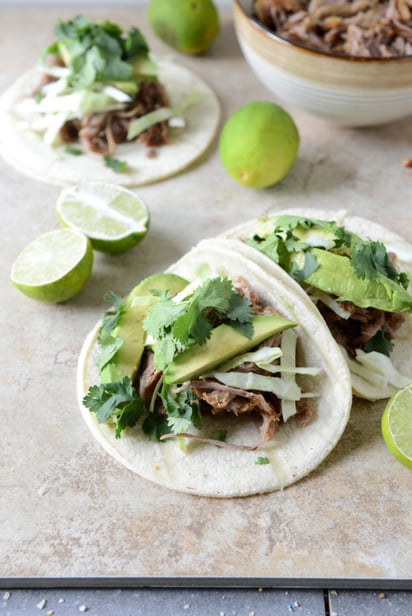 Carnitas
Juicy pork is cooked in its own juices and served with corn tortillas.
Ingredients
(6)
2 pound boneless pork shoulder, cubed, or country-style ribs, cut into big cubes—do not trim fat

1 tablespoon sea salt

2 teaspoon granulated garlic

1 teaspoon red pepper flakes

1 cup orange juice

Water
Ingredient Facts and Health Benefits
Discover fascinating facts and health benefits about some of the ingredients in the recipe, including other delicious recipes!
Directions
Place pork into a non-reactive bowl or container. Sprinkle salt, granulated garlic and red pepper flakes over meat. Add orange juice. Mix well, so the marinade coats all the pieces. Refrigerate, covered, at least 4 hours or overnight.
Heat a large heavy-duty pot or Dutch oven. Add marinated pork and liquids. Add about 3 cups water. Bring to a boil, then reduce heat to simmer.
Simmer, uncovered, over low heat 2 hours. Skim off foam that accumulates at the top, but otherwise do not disturb the meat.
After 2 hours, increase heat to boil off liquid. This should take about 45 minutes. Occasionally stir meat so that it doesn't stick and burn at the bottom of the pot. The meat will begin to break apart and will brown in the rendered fat which is the key to this recipe. The result is tender juicy carnitas.