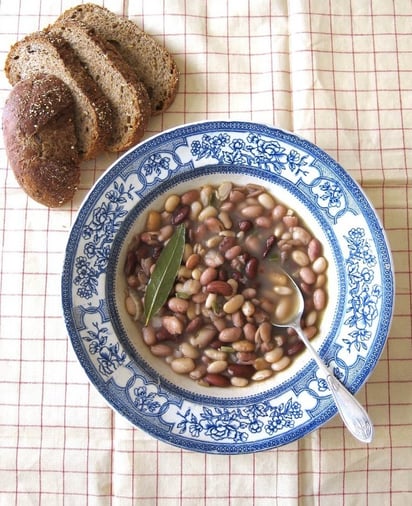 Heirloom Beans
Heirloom beans are so delicious, they require only simple seasonings to enhance their good taste.
Use whatever beans you like; this colorful, flavorful combination has a lot to offer.
Ingredients
(10)
3 tablespoon olive oil

1 cup diced onions

4 garlic cloves, minced

2 serrano chiles, minced

1 1/2 teaspoon salt

1 teaspoon black pepper

2 cup dried beans, soaked 3 hours (or overnight) and rinsed (2/3 cup each cannellinis, red beans and borlotti or cranberry beans)

Water

3 bay leaves

1 teaspoon red pepper flakes
Ingredient Facts and Health Benefits
Discover fascinating facts and health benefits about some of the ingredients in the recipe, including other delicious recipes!
Directions
Heat olive oil in a heavy-duty stockpot over medium heat. Stir in onions, garlic and chiles. Add salt and black pepper, and sauté until onions are translucent. Add beans, stirring well so that they are coated with oil. Pour water over the beans—enough to cover them by two inches. Stir in bay leaves and red pepper flakes. Bring to a rolling boil, then reduce heat to a simmer. Skim off any scum that may accumulate as the beans cook.
Cook, partially covered about 2 hours, stirring occasionally and adding more liquid if needed. Discard bay leaves. Taste for salt and heat, adjusting as needed.