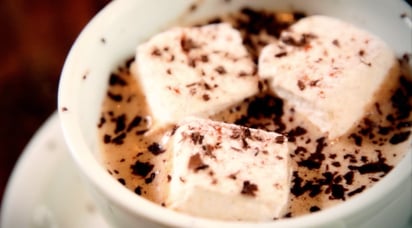 Rich Dessert Hot Chocolate
The ultimate rich and creamy hot chocolate—like drinking dessert from a cup. How-to video included!
Ingredients
(8)
2 cup heavy cream

1/2 vanilla bean, halved and scraped

1/2 cup granulated sugar

6 egg yolks

3 ounce bittersweet chocolate

1/3 cup whole milk, or more as needed

1 tablespoon bourbon or rum (optional)

1 tablespoon white creme de cacao
Ingredient Facts and Health Benefits
Discover fascinating facts and health benefits about some of the ingredients in the recipe, including other delicious recipes!
Directions
Combine heavy cream and vanilla bean in a heavy-bottom sauce pot and steep over low heat for 20 minutes. Remove vanilla bean.
While waiting, combine sugar and egg yolks in a mixing bowl and whisk for 5 minutes, or until pale yellow and thickened.
Drizzle 1/2 cup of hot cream into eggs, stirring constantly, to temper the yolks. Now pour the entire egg mixture into the hot cream while stirring. Cook and stir over low heat until custard is cooked to about 165F, or until thick enough to coat the back of a wooden spoon. Remove from heat.
Add 3 ounces coarsely chopped bittersweet chocolate and whisk until melted and smooth. Move on to the next step, or thin with 1/3–1/2 cup of whole milk, as desired.
Finish with 1 tablespoon each of bourbon or rum, and white creme de cacao, or your favorite liqueur and marshmallows (optional). Make 4 cups.