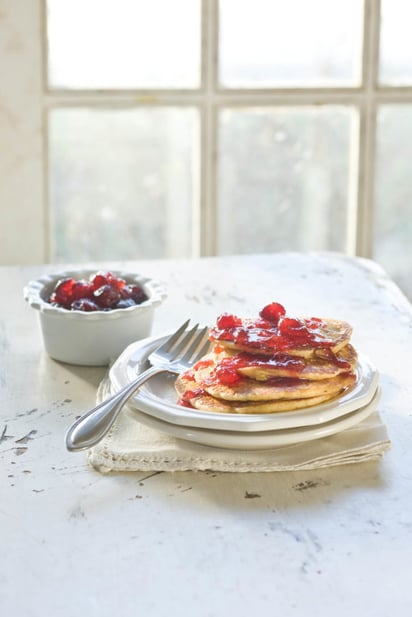 Cornmeal Pancakes with Cranberry-Maple Syrup
Cornmeal adds a lovely texture to these not-too-sweet breakfast pancakes.
Ingredients
(14)
Syrup:

1 1/2 cup fresh or thawed cranberries

1 cup maple syrup

Pancakes:

1/2 cup cornmeal

1/2 cup boiling water

1/2 cup white whole-wheat flour

1 tablespoon sugar

1/2 tablespoon baking powder

1/16 teaspoon salt

3/4 cup 2 percent reduced-fat milk

1 egg

2 tablespoon butter, melted

Cooking spray
Ingredient Facts and Health Benefits
Discover fascinating facts and health benefits about some of the ingredients in the recipe, including other delicious recipes!
Directions
To prepare syrup, heat cranberries and maple syrup together in a saucepan over medium heat, stirring regularly. Cook until cranberries pop and mixture thickens. Syrup can be made ahead of time and kept in the fridge, covered, for a month. This syrup is also great on ice cream.
Combine cornmeal and boiling water in a bowl.
Combine flour, sugar, baking powder and salt.
Whisk together milk, egg and butter. Add cornmeal and stir.
Whisk cornmeal mixture into flour mixture.
Spray griddle with cooking spray. Spoon batter onto griddle (1/4-cup per pancake) and cook over medium heat, flipping when tiny bubbles appear in the pancake. Continue cooking until golden on each side. Serve with the rhubarb-maple syrup.