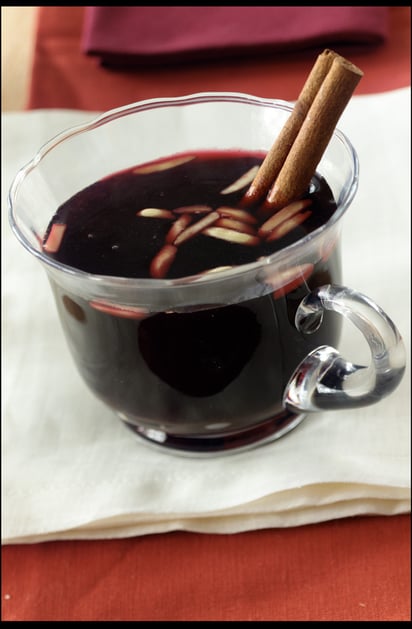 Glogg (Spiced Wine)
The perfect late evening warm-up for a cold, holiday winter evening.
Use a deep, fruity red wine such as a syrah or merlot, and for the port, opt for a ruby.
Ingredients
(9)
3 1/2 cup red wine

1 3/4 cup port

1 cup sugar

Peel from 2 oranges

2 cinnamon stick

10 fresh cardamom pods, cracked slightly

1 cup brandy, aquavit, vodka or cognac

8 tablespoon raisins

8 tablespoon slivered or whole blanched almonds
Ingredient Facts and Health Benefits
Discover fascinating facts and health benefits about some of the ingredients in the recipe, including other delicious recipes!
Directions
Warm wine and port with sugar in a pot over medium heat. Tie orange peel and spices in a cheesecloth bag and add to wine. Simmer 20 minutes.
Add brandy and simmer 5 minutes longer. Remove spices.
Place 1 tablespoon each of raisins and almonds in mugs and add hot wine.