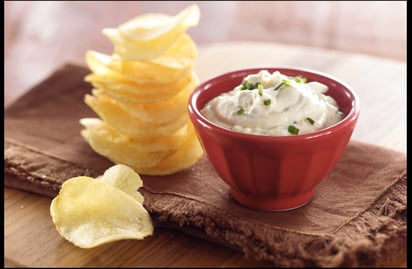 Goat Cheese and Roasted Garlic Dip
Skip the dips with the all-too-common ranch dressing base in favor of fresh, soft chevre for a lighter taste.
Use Montrachet or whatever soft, creamy goat cheese you prefer. For the best taste, refrigerate overnight before serving.
Ingredients
(8)
2 heads garlic

7 ounce soft goat cheese, divided

1/2 cup light sour cream

6 tablespoon light mayonnaise

2 tablespoon 2% reduced-fat milk

1/4 cup chopped chives

1/2 teaspoon salt

1/4 teaspoon freshly ground black pepper
Ingredient Facts and Health Benefits
Discover fascinating facts and health benefits about some of the ingredients in the recipe, including other delicious recipes!
Directions
Preheat oven to 400F.
Cut off the top quarter of each garlic head. Wrap in foil and roast about 1 hour or until soft. Unwrap and cool 15 minutes.
Squeeze garlic pulp into a large bowl; mash. Stir in goat cheese, sour cream, mayonnaise, milk, chives, salt and pepper. Cover and refrigerate overnight or up to 1 week.