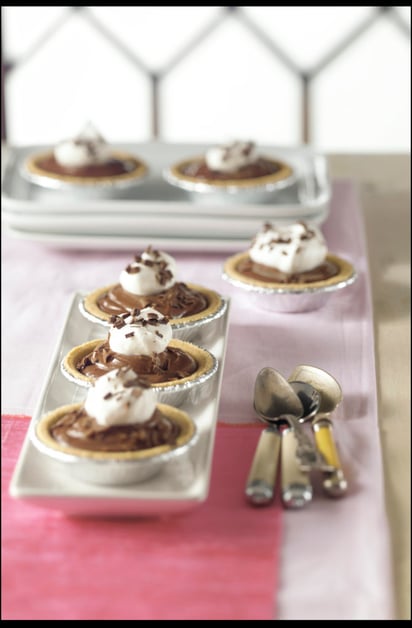 No-Cook Chocolate Silk Tarts
Sure, it sounds strange, but tofu makes these tarts creamy as well as healthful.
You'd never know tofu is in these creamy tarts. Be sure to use the custard-like silken tofu found vacuum-packed in boxes. To melt chocolate, coarsely chop, then microwave on medium for 30 seconds. Repeat until chocolate is melted.
Ingredients
(11)
7 ounce semisweet chocolate, melted and slightly cool

1 cup sugar

1/3 cup unsweetened cocoa

2/3 cup low-fat sour cream

1 (12-ounce) box soft silken tofu

1 tablespoon vanilla extract

1/3 cup egg substitute

1/8 teaspoon salt

12 graham-cracker tart shells

Whipped cream (optional)

Bittersweet chocolate curls (optional)
Ingredient Facts and Health Benefits
Discover fascinating facts and health benefits about some of the ingredients in the recipe, including other delicious recipes!
Directions
Combine chocolate, sugar, cocoa, sour cream, tofu, vanilla, egg substitute and salt in a food processor. Pulse until completely smooth, pausing to scrape down sides of the processor. Spoon into tart shells.
Cover with waxed paper, then tightly with plastic wrap. Chill at least 4 hours, preferably overnight.
Top with whipped cream and chocolate curls if using.