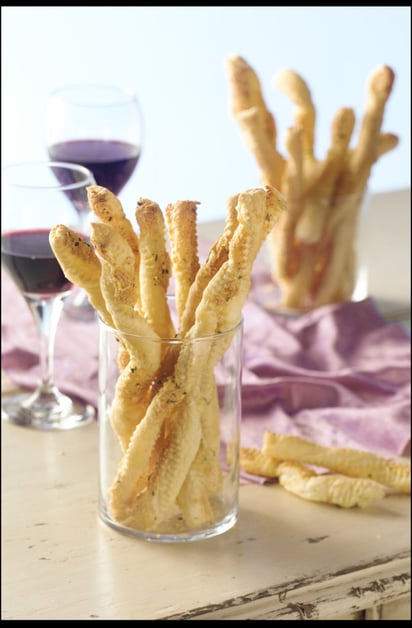 Rosemary Parmesan Twists
Frozen puff pastry sheets are the ultimate shortcut! This appetizer is easy, yet elegant.
Puff pastry is a magic ingredient for busy cooks: it's elegant, delicious and deceptively easy to work with.
Ingredients
(6)
1 sheet (from 17.25-ounce package) frozen puff pastry, thawed

1 egg

1 tablespoon water

1/4 cup shredded Parmesan

1 1/2 tablespoon chopped fresh rosemary (or 1 tablespoon dried)

1/2 teaspoon coarsely ground black pepper
Ingredient Facts and Health Benefits
Discover fascinating facts and health benefits about some of the ingredients in the recipe, including other delicious recipes!
Directions
Preheat oven to 400F. Line two baking sheets with parchment paper.
Roll puff pastry into a 10-by-14-inch rectangle. Whisk egg and water together and brush on pastry. Sprinkle with Parmesan, rosemary and pepper, pressing lightly into pastry with your fingers.
Cut pastry into 24 strips, each slightly more than 1/2-inch wide. Twist each strip and place on baking sheets. Bake 10 to 12 minutes, until golden. Serve warm or at room temperature.