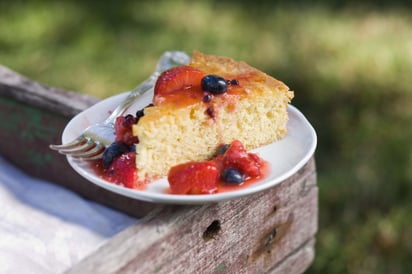 Rustic Cornmeal Cake with Macerated Berries
Cornmeal and fresh berries give this summery dessert a rustic, country-style flavor.
Macerating is when you take use a liquid to break up a food ingredient and release its full flavor.
Ingredients
(15)
Cake:

1 cup all-purpose flour

1 1/2 teaspoon baking powder

1/4 teaspoon salt

1/2 cup (1 stick) butter, at room temperature

1 cup sugar

2 teaspoon grated orange rind

1 teaspoon vanilla extract

2 eggs

1/3 cup yellow cornmeal

1/2 cup 2% reduced-fat milk

Berries:

1 cup each strawberries, blueberries and raspberries

1/4 cup sugar, or to taste

1/2 cup freshly squeezed orange juice
Ingredient Facts and Health Benefits
Discover fascinating facts and health benefits about some of the ingredients in the recipe, including other delicious recipes!
Directions
To prepare cake, preheat oven to 350F. Grease a 9-inch round cake pan.
Combine flour, baking powder and salt.
Combine butter, sugar, orange rind and vanilla in a large bowl; beat with a mixer at medium speed until evenly blended. Add eggs one at a time, beating after each addition. Reduce speed to low and add flour mixture and cornmeal alternately with milk, beating just until evenly incorporated. Scrape into prepared pan, spreading evenly.
Bake 30 minutes or until a tester inserted in the middle comes out clean. Cool in pan on wire rack.
To prepare berries, mash berries in a large bowl. Add sugar and orange juice and mix gently. Serve with cake.