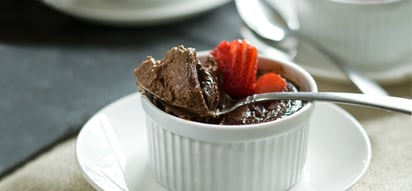 Chocolate Pots de Creme
An elegant chocolate dessert fit for special occasions. Top with whipped cream and your favorite berries.
If you like your whipped cream a little sweet, add 1 tablespoon powdered sugar and 1 teaspoon vanilla.
Ingredients
(10)
1 1/2 cup heavy cream

1 cup 2 percent reduced-fat milk

1 tablespoon strong brewed coffee

2 teaspoon vanilla extract

8 ounce bittersweet or semisweet chocolate, finely chopped

6 egg yolks

1 tablespoon sugar

1/8 teaspoon salt

Unsweetened whipped cream

Strawberries (optional)
Ingredient Facts and Health Benefits
Discover fascinating facts and health benefits about some of the ingredients in the recipe, including other delicious recipes!
Directions
Preheat oven to 350F.
Combine cream, milk, coffee and vanilla in a saucepan. Heat to just under a boil. Place chocolate in a glass mixing bowl. Pour cream mixture over chocolate; whisk until chocolate is melted and evenly mixed throughout.
Vigorously whisk egg yolks with sugar and salt.
Add 1 cup of chocolate mixture to egg yolk mixture; whisk until all traces of yolk disappear. Add this back to remaining chocolate mixture; whisk until smooth and well incorporated.
Pour into 8 (4- to 6-ounce) ramekins. Cover ramekins tightly with foil and place in baking dish. Pour water in baking dish to come halfway up the sides of ramekins to create a water bath. Bake 30 to 40 minutes.
Uncover and cool. Chill 5 hours. Serve with whipped cream and strawberries, if desired.