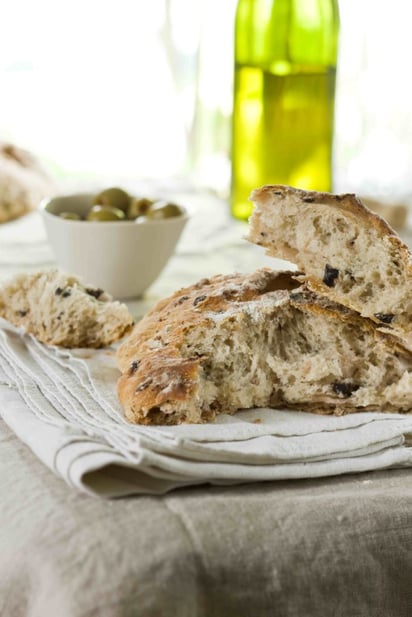 Classic Sourdough Bread
Become your own artisanal baker with this wonderful, Old World-style sourdough recipe.
Ingredients
(6)
1 cup Sourdough Starter (see recipe)

2 1/4 cup warm water, divided

5 to 7 cup white bread flour, divided

2 packet (1/4-ounce) dry yeast

2 teaspoon sugar, divided

2 teaspoon salt
Ingredient Facts and Health Benefits
Discover fascinating facts and health benefits about some of the ingredients in the recipe, including other delicious recipes!
Directions
Mix sourdough starter, 2 cups water and 5 cups flour in a large bowl. Mix well; cover with a dish towel and let rise 8 hours or overnight.
Combine yeast, 1/4 cup warm water, and 1/2 teaspoon sugar. Let stand 5 minutes, until mixture bubbles.
Place flour mixture in the bowl of a stand mixture. Add yeast mixture, salt and remaining 1 1/2 teaspoons sugar. Mix well. With your hands or a dough hook, knead while gradually adding up to 2 additional cups of flour, 1/2 cup at a time. Knead until a smooth, soft dough forms. Dough should be shiny and supple, not sticky and wet. If you plan to add additional ingredients (see note), add them at this point so they are evenly distributed.
Place dough in an oiled bowl; cover with a dishtowel and let rise about 2 hours.
Punch down and divide in half for 2 large loaves or fourths for 4 smaller loaves. Knead each portion by hand on a lightly floured surface until smooth; shape into rounds. Place on a parchment-lined baking sheet and lightly cover with a dish towel. Let rise 1 hour, until double in size.
Preheat oven to 375F. Just before placing bread in the oven, place an ovenproof bowl filled with 2 cups of water or ice cubes in the bottom of oven to create steam to help bread form a crisp crust.
Slash tops of loaves with a sharp knife. For a rustic look, sprinkle with flour. Bake about 45 minutes, until loaves sound hollow when tapped on the bottom.