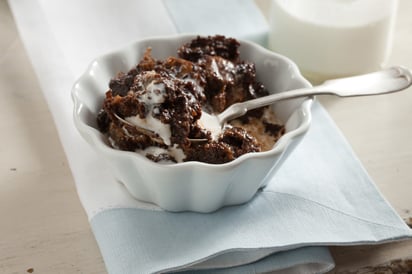 Chocolate Bread Pudding
Serve this rich, chocolately dessert warm, drizzled with cold milk or cream.
"My daughter came across this recipe for chocolate bread pudding during the holidays several years ago and made it to take to a potluck party. It was such a success that it has since graced our holiday tables."—Sara J. Jones, Sault Sainte Marie, Mich.
Ingredients
(10)
2 cup semi-sweet chocolate chips, divided

4 eggs

3/4 cup firmly packed light brown sugar

1/2 teaspoon cinnamon

1/8 teaspoon nutmeg

1 teaspoon vanilla extract

4 ounce Kahlua or brandy

2 cup 2% reduced-fat milk

4 cup cubed stale French bread

Cream or milk (optional)
Ingredient Facts and Health Benefits
Discover fascinating facts and health benefits about some of the ingredients in the recipe, including other delicious recipes!
Directions
Preheat oven to 350 degrees. Grease an 8 1/2-by-4 1/2-inch (5-cup) loaf pan.
Melt 1 cup chocolate chips and set aside to cool slightly.
Whisk together eggs, brown sugar, cinnamon, nutmeg, vanilla, melted chocolate and Kahlua in a large bowl. When very smooth, stir in milk and mix well. Add bread and let stand for 30 minutes. Stir occasionally to make sure bread is evenly soaked.
Ladle half the bread mixture into loaf pan. Spread remaining 1 cup chocolate chips on top. Ladle remaining bread mixture over chocolate chips. Bake about 55 minutes, until center is set. Serve warm with cream or milk, if desired.