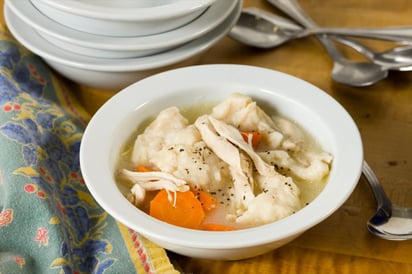 Easy Chicken and Dumplings
This simple and comforting Bisquick-based chicken and dumplings recipe is so much easier than it looks.
Don't rush the chicken stock—the longer it simmers, the more flavorful it will be.
Ingredients
(8)
1 (3-pound) chicken(fryer) or chicken quarters

1 small onion, chopped

Black peppercorns and fresh chopped parsley (optional)

3 carrots, sliced

2 1/4 cup Bisquick biscuit mix

3/4 cup milk

2 ounce Parmigiano Reggiano cheese, grated

1/2 teaspoon garlic powder
Ingredient Facts and Health Benefits
Discover fascinating facts and health benefits about some of the ingredients in the recipe, including other delicious recipes!
Directions
Place chicken and onion in Dutch oven or large pot; cover with water. Add peppercorns and parsley, if using. Simmer until chicken is cooked and broth is rich and reduced, 2 to 4 hours. Remove chicken, and strain stock. Let cool. Remove chicken from bones, shred, and discard bones and skin. Add chicken and carrots to broth. Simmer 15 minutes.
Combine Bisquick, milk, cheese and garlic powder. Mix well with a fork. Drop forkfuls of dough into simmering broth, filling in the spaces between dumplings as you work. (Dumplings will float.) Cook, uncovered, 10 minutes. Cover and cook another 10 to 15 minutes, until dumplings are thoroughly cooked.