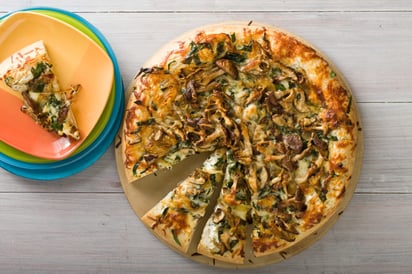 Fun-Guy (Funghi) Pizza
Mushrooms are the stars in this kid- and vegetarian-friendly pizza. Perfect for weeknight family dinners!
We like adding fun mushrooms to this pizza—like enoki and oyster—but you can use any kind. Have kids toss and shape the dough
Ingredients
(9)
3 tablespoon olive oil, divided

1 medium onion, sliced

2 teaspoon sugar

1/2 teaspoon salt

2 cup assorted mushrooms

24 ounce fresh pizza dough

1 cup cream cheese

6 ounce shredded Mozzarella and Provolone cheese blend

2 cup shredded fresh spinach leaves
Ingredient Facts and Health Benefits
Discover fascinating facts and health benefits about some of the ingredients in the recipe, including other delicious recipes!
Directions
Heat 2 tablespoons oil in a large skillet. Add onions, sugar and salt. Cook over medium-low heat 30 to 45 minutes, until onions are brown and caramelized.
Heat remaining 1 tablespoon oil in a large skillet. Add mushrooms and cook until they begin to release their liquid.
Preheat oven to 450F.
Roll out pizza dough into a 12-inch round or square. Spread cream cheese over top. Add half the mozzarella and provolone cheese. Add caramelized onions and spinach. Add mushrooms. Add remaining mozzarella and provolone.
Bake 25 to 20 minutes, until crust is crispy and cheese is melted.