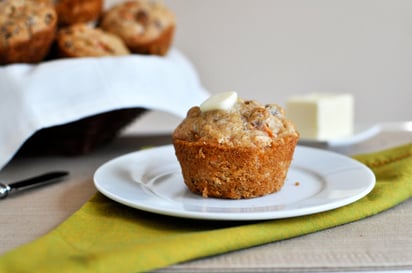 Morning Glory Muffins
Loaded with fresh produce and nuts, this muffin packs a mean nutritional punch. Plenty of energy to see you through the morning!
Ingredients
(13)
1 1/4 cup granulated sugar

1/2 cup vegetable oil

3 eggs

2 teaspoon vanilla

2 cup white all purpose flour

2 teaspoon baking powder

1/4 teaspoon salt

1 teaspoon cinnamon

1 1/2 cup grated carrots

1/2 cup raisins

1/2 cup coconut

1/2 cup diced peeled raw apple

1/2 cup chopped pecans
Ingredient Facts and Health Benefits
Discover fascinating facts and health benefits about some of the ingredients in the recipe, including other delicious recipes!
Directions
Preheat oven to 350F.
Combine sugar and next 3 ingredients (sugar through vanilla) in a large bowl.
Combine flour and next 3 ingredients (flour through cinnamon) in another bowl. Add to the liquid ingredients and stir until just moistened. Gently fold in remaining ingredients.
Pour into well-greased muffin tins to about two-thirds full (about 1/4 cup batter per muffin). Bake 20 to 25 minutes, until light gold on the edges and tops.