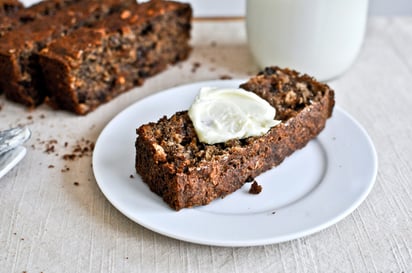 Flaxseed Raisin Bread
A hearty, nutrient-rich bread that's great for busy mornings on the go.
Ingredients
(10)
1 cup raisins or chopped dates

1 cup boiling water

1 teaspoon baking soda

3/4 cup flaxseed

1 cup whole-wheat flour

1 cup rolled oats

1/3 cup sugar

1 teaspoon baking powder

1/4 teaspoon salt

1 cup milk
Directions
Preheat oven to 350F. Lightly grease a 9 x 5-inch loaf pan.
Place raisins in a large bowl. Pour water over top and and add baking soda; let stand 5 minutes. Add flaxseed, flour, oats, sugar, baking powder, salt and milk. Combine just until mixed. Pour into loaf pan.
Bake 56 to 75 minutes. (Bread will be very brown.) Let cool completely before slicing.