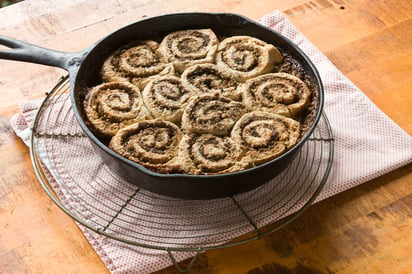 Maple Sticky Buns
No yeast is required to make these walnut-studded maple breakfast buns with the heady flavor of cinnamon.
Ingredients
(9)
3/4 cup finely chopped walnuts

3/4 cup firmly packed brown sugar

3/4 teaspoon cinnamon

1/2 cup pure maple syrup

12 tablespoon butter, divided

2 1/4 cup all-purpose flour

1 tablespoon baking powder

3/4 teaspoon salt

1 cup milk
Ingredient Facts and Health Benefits
Discover fascinating facts and health benefits about some of the ingredients in the recipe, including other delicious recipes!
Directions
Preheat oven to 400F. Mix together walnuts, brown sugar and cinnamon in a small bowl.
Bring maple syrup and 4 tablespoons butter to boil in a small saucepan over medium heat. Boil 30 seconds, then scrape into a 10-inch cast iron or heavy skillet of pan. Top with one-third of walnut mixture.
Combine flour, baking powder and salt in large bowl. Add 7 tablespoons butter and mix until the mixture resembles small peas. Add milk; stir gently, just until the mixture comes together.
Melt remaining 1 tablespoon butter in a small saucepan.
Turn dough onto a lightly floured surface and knead gently 5 or 6 times. Roll into a 9 x 12-inch rectangle. Brush with melted butter.
Cover dough evenly with remaining walnut mixture, patting gently. Roll up dough to for a 12-inch log, pinching seam to seal. Cut into 12 (1-inch) slices and place in pan. Bake 25 minutes. Remove from oven and immediately invert onto a large plate (do this quickly, but carefully — the syrup is very hot). Scrape any syrup from pan and spread over buns. Serve warm or hot.