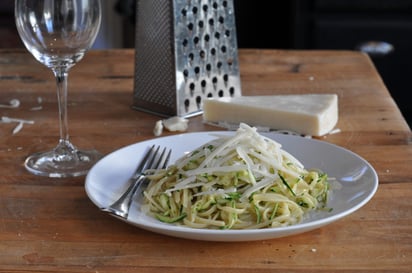 Zucchini Linguine
Sauteed onions, garlic and zucchini make a great addition to linguine pasta.
Ingredients
(10)
2 tablespoon olive oil

1 small onion, chopped

2 garlic cloves, chopped

1 medium zucchini, shredded

2 tablespoon white wine

8 ounce linguine, cooked and drained (about 3 3/4 cups)

1 tablespoon butter

1/2 teaspoon salt

Freshly ground black pepper

1/2 cup grated Romano cheese
Directions
Heat olive oil in a large skillet. Add onion and garlic and sauté about 10 minutes. Add zucchini and wine and cook 5 minutes. Add hot pasta, butter, salt and pepper. Serve with grated cheese.