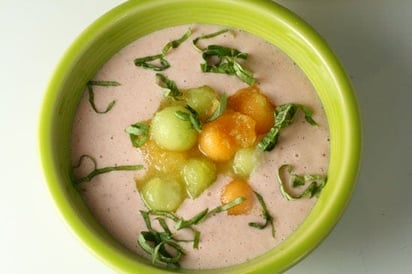 Chilled Strawberry Soup
Ingredients
(13)
Ginger Infused Melon Balls:

1 Cup pineapple juice

1/4 Cup Sugar

1 Tablespoon fresh ginger, grated

1/2 of a honeydew melon

1/4 cantaloupe

Soup:

3 Cups strawberries, the fresher the better

1/4 cantaloupe

4 ounces vanilla yogurt (or plain yogurt with 1/2 Teaspoon vanilla)

1 Cup milk

Pinch of sugar and salt

The original recipe calls for sour cream, but I'm not sure I recommend it.  Add it carefully.
Ingredient Facts and Health Benefits
Discover fascinating facts and health benefits about some of the ingredients in the recipe, including other delicious recipes!
Directions
Learn how to make this recipe at Macheesmo