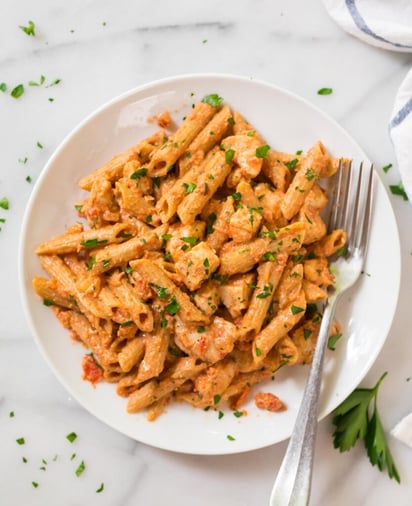 Penne Alla Vodka with Chicken
Whether you eat dairy or not, you'll love this dairy-free take on chicken penne with vodka sauce made with almond milk instead of cream. Enjoy this dish with a green salad and your favorite bread to soak up the sauce and you'll want to make it again the next day!
Ingredients
(15)
3/4 cup raw almonds soaked in water for at least 4 hours or up to 10 hours

3/4 cup Almond Breeze Unsweetened Original Almondmilk

2 tablespoons extra virgin olive oil (divided)

1 pound boneless skinless chicken breasts cut into 1/2-inch pieces

1 teaspoon kosher salt (divided)

1/4 teaspoon black pepper

1 cup vodka

1 large yellow onion diced

3 cloves garlic minced

1 (28-ounce) can crushed tomatoes

1/2 teaspoon dried oregano

1/4 teaspoon crushed red pepper flakes

1 pound whole wheat penne or similar whole wheat pasta

2 tablespoons nutritional yeast or Parmesan (optional—use nutritional yeast to make dairy free or omit)

Thinly sliced fresh basil or chopped fresh parsley
Ingredient Facts and Health Benefits
Discover fascinating facts and health benefits about some of the ingredients in the recipe, including other delicious recipes!
Directions
Bring a large pot of salted water to a boil. Drain the almonds, then place them in a blender with the almondmilk. Puree until smooth, thick, and creamy. Depending upon your blender, this may take several minutes and you may need to stop and scrape down the blender a few times. The mixture will be the consistency of a paste and will have brown flecks of almond skin in it. Set aside.
Meanwhile, in a very large, deep skillet or Dutch oven, heat 1 tablespoon of the olive oil over medium high heat. Once hot, add the chicken. Season with 1/2 teaspoon salt and black pepper. Sauté until lightly browned on all sides and cooked through, about 4 to 6 minutes. Remove to a plate and set aside. Make sure you have the vodka measured and on hand.
To the same pan, add the remaining 1 tablespoon olive oil. Let warm up, then add the onion and remaining 1/2 teaspoon salt. Cook until the onion begins to soften, about 3 to 4 minutes, then add the garlic and cook just until fragrant, about 30 seconds, being careful not to burn it.
Carefully add the vodka (be especially careful if your stove has an open flame). Scrape to deglaze the pan, then let the vodka cook until reduced by half, about 5 minutes. Add the crushed tomatoes, oregano, and red pepper flakes. Bring this sauce to a steady simmer, then reduce the heat to a low simmer over medium low, adjusting the heat as needed so that the sauce simmers gently (you want it to continue to reduce but not bubble aggressively). Let simmer until thickened, about 10 minutes. Remove from heat and stir in the blended almond mixture until the sauce is smooth and the almond mixture is well incorporated (the sauce will turn a light, creamy red color). Taste and adjust seasoning as desired.
While the sauce simmers, cook the pasta in the boiling water to al dente, according to package instructions. Reserve 1 cup of the pasta cooking liquid, then drain the pasta and immediately add it to the sauce. Toss to coat the pasta, then stir in the chicken, adding a bit of the pasta cooking liquid to loosen the sauce as needed. Stir in the nutritional yeast. Serve hot, sprinkled with basil or parsley