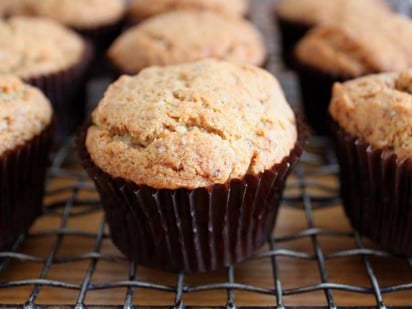 Gluten-Free Tuesday: Vegan Banana Bread Muffins Recipe
Ingredients
(12)
1 cup turbinado sugar

1 1/2 cups (about thee medium bananas) mashed*, very ripe bananas

2 tablespoons ground flax meal

1/4 cup plus 2 tablespoon hot water

9 ounces (1 2/3 cups) brown rice flour

2 ounces (1/3 cup) potato starch

1 teaspoon baking powder

1 teaspoon baking soda

1 teaspoon salt

1/2 teaspoon xanthan gum

1/2 cup soy-free shortening

*To mash, place bananas in a bowl. Use a fork and mash until smooth with no large pieces of bananas remain (small pieces of bananas are fine).
Ingredient Facts and Health Benefits
Discover fascinating facts and health benefits about some of the ingredients in the recipe, including other delicious recipes!