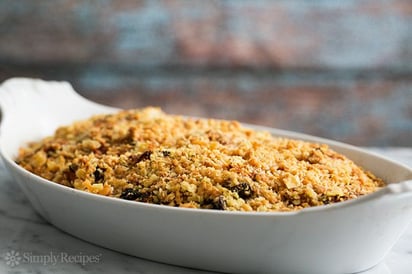 Sweet Potato, Mushroom, Leftover Turkey Casserole Recipe
Ingredients
(11)
1/4 lb bacon, cut into half inch slices

1 large yellow onion, peeled and chopped

2 cups roughly chopped leftover (cooked) turkey meat (light and/or dark meat)

3 to 4 cups of mashed cooked sweet potatoes or garnet yams (from about 2 large sweet potatoes)*

1 lb of sliced cremini or button mushrooms

1/2 teaspoon salt

1/4 teaspoon freshly ground black pepper

1 1/2 cups (6 ounces) grated Gruyere cheese

20 saltine crackers

4 Tbsp butter, divided, plus more to grease the baking pan

*To cook the sweet potatoes, peel them, slice them into 1-inch thick disks, toss with some olive oil, place them in a single layer in a roasting dish covered with foil and roast them at 400°F for 20 minute or until fork tender. Or you can pierce the whole unpeeled sweet potatoes with a fork all over, wrap in foil and roast at 350°F for an hour or until fork tender. Or, you can peel and chop them and boil them until tender. Then mash.
Ingredient Facts and Health Benefits
Discover fascinating facts and health benefits about some of the ingredients in the recipe, including other delicious recipes!