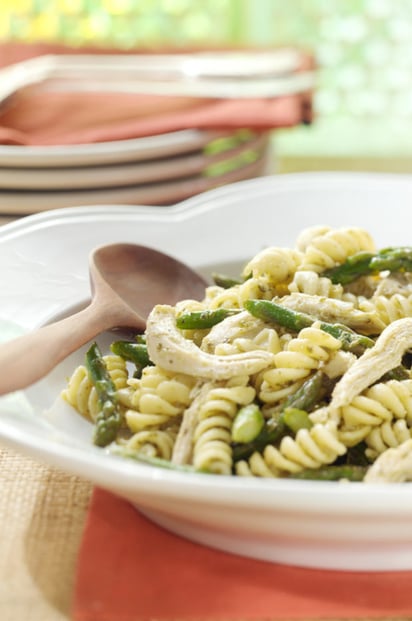 Lemony Asparagus and Chicken Pasta Toss
The perfect warm-weather option for picnics and packed lunches.
Just as good cold as hot, this dish is great for a picnic or for lunch at work.
Ingredients
(7)
2 can (14-ounce) reduced-sodium chicken broth

12 ounce frozen boneless, skinless chicken breasts

6 ounce uncooked short pasta (rotini or penne)

1/2 pound asparagus, trimmed and cut into bite-size pieces

1/4 cup prepared pesto

2 tablespoon fresh lemon juice

1/8 teaspoon freshly ground black pepper
Ingredient Facts and Health Benefits
Discover fascinating facts and health benefits about some of the ingredients in the recipe, including other delicious recipes!
Directions
In a deep skillet or Dutch oven, bring broth to a boil over high heat. Add frozen chicken. Return to a boil, reduce the heat, cover and simmer 22 minutes. Remove chicken from broth, cool and shred.
Increase heat to high and bring broth to a boil. Stir in pasta and continue to cook, uncovered, 6 minutes. Add asparagus and cook 2 minutes or until asparagus is tender.
Drain pasta mixture and return to skillet. Add shredded chicken, pesto, lemon juice and pepper; toss gently.